The ADAC marinas classification
The ADAC Ship's Wheel marina rating system
Water sports have developed constantly in recent years and become more and popular with the general public. Since water sports have evolved into a travel industry in its own right, public and private marina operators are competing for the patronage of boating enthusiasts. This audience has considerable spending power and is very discerning in terms of expectations.
Numerous marinas have opened or improved their range of services in recent years. The range of harbours covers the whole bandwidth from simple docks directly on a riverbank, without any supply facilities, to professionally outfitted, state-of-the-art marinas. The latter offer the full range of boat servicing as well as sanitary and wellness facilities and varied catering options. Plus, at many marinas you will find a varied range of leisure facilities for a recreational holiday.
Obviously, customers look for a good balance between affordable prices and comprehensive services and facilities. How then is the nautical tourist to tell whether a marina's offerings are frugal or luxurious, poor or generous? Is there something like a common denominator allowing to make the value for money offered by the multitude of local marinas transparent?
Therefore, a few countries and regions – or groups of marinas – have developed their own classification systems. Their ratings help skippers distinguish between simple and superior marinas within the group or alliance. However, these commendable efforts at classification are limited to more or less small regions.
The ADAC marinas guide editors have made it their task to audit marinas across Europe on the basis of a uniform rating system. The ADAC marina classification uses two main categories – technical & service and catering, provisioning & leisure – to rate the levels of service offered by the marinas.
The ratings awarded for individual aspects within the two main categories are amalgamated and shown in an easy-to-read scale using ship's wheel symbols: the greater the number of ship's wheels awarded, the better and more varied is the level of service and the variety of facilities offered by that marina.
The assessment scale on which the rating system is based is by no means a rigid and inflexible formula. The ADAC marinas guide editors respond to changes in the marina industry by adapting their rating scale if need be. True to the motto "The only thing that is constant is change" many current standards may seem sadly inadequate in only a few years' time.
Technical & service
This category of services relates to the requirements and needs of the boats themselves in relation to the facilities offered by a marina. It is essential. A boat in good working condition is a prerequisite for a nautical holiday.
The technical & service ratings are awarded with particular care. A fuelling point, for instance, is a very important facility: re-fuelling is absolutely crucial for motorboats and essential for most sailboats. On occasion, repairs may be necessary to complete a cruise. Our guide therefore documents the availability of a boatyard, motor service or sailmaker. Boat chandlers are rated for the range of their offerings. Boat owners may be interested to know whether there is a boat crane or slip at the marina to help them launch their boat, or whether there is a parking facility for their trailer.
Another important aspect in this category is the availability of electricity and freshwater supply or disposal facilities (e.g. for the holding tank or hazardous waste). For a marina to achieve the highest score for power supply, all berths must be equipped with their own electric hook-up. Another rating criterion is the clarity of information boards (weather and nautical information). The last rating criterion is sanitary facilities and their layout/equipment.
Catering, provisioning & leisure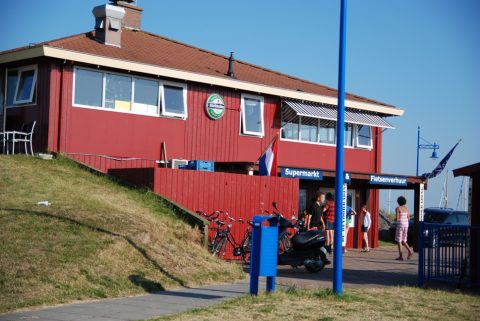 Usually, shops, restaurants and leisure facilities help make a crew's sojourn in a harbour agreeable. The range of shops and restaurants a crew will find in a harbour is a key aspect. The focus is on shopping opportunities for skippers looking to provision their boat, for instance in a small grocer's shop or a supermarket. Food kiosks or restaurants where guests may find nourishing food and drink after a day's adventures out on the water will earn the marina extra points.
Further aspects considered in the rating include leisure facilities on the marina grounds such as bicycle rental, barbecue grills, playgrounds or even childcare. Where wellness facilities such as saunas, sunbeds or steam rooms are available or a beach is adjacent or nearby, this will earn further points.
Rating Details
For each category, the rating scale is made up of five ship's wheel symbols. The greater the number of the red ship's wheels awarded, the better and more comprehensive are that marina's services and facilities.
If a marina fails to score significantly in one of the categories, this is represented by ship's wheel symbols that are not colourised. Zero ship's wheels means insufficient performance in the respective category. One ADAC marinas guide ship's wheel is awarded where a limited, substandard level of services and/or facilities is provided. Two red ship's wheels mean standard services and/or facilities. Three ship's wheels are awarded to marinas providing superior levels of services and/or facilities. Four red ship's wheels go to marinas providing comfort-level services and/or facilities in the respective category. Five ship's wheels are awarded to marinas providing outstanding levels of services and/or facilities.

 Insufficient

 Limited

 Standard

 Superior

 Comfortable

 Outstanding
The number of red ship's wheels shows you at a glance what to expect and helps you decide whether a marina meets your requirements.
A marina listed without any rating was not visited and adequately audited by our inspectors.