Houseboating – no licence required – charter permit
Chartering – all you need to know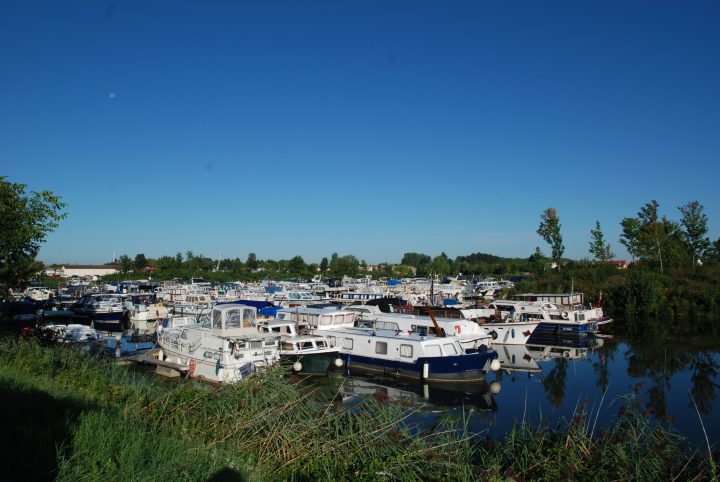 Renting a houseboat is the perfect start into pleasure boating for would-be skippers who have no licence. In Germany alone, you have over 700km of navigable waterways in Berlin, Brandenburg, Mecklenburg-Western Pomerania, Hesse, Rhineland-Palatinate, Saxony-Anhalt and the Saarland. On these waters, you can rent a houseboat (German only) and drive it with your temporary boating permit, no full licence to operate a pleasure craft required. You can obtain the permit from the charter provider after taking part in an introductory course of minimum 3 hours. Also in the neighbouring countries you will find inland waterways where no licence to operate a pleasure craft is required. This, for example, applies to the Canal du Midi in the south of France, Burgundy, the Masurian Lake District in Frisia (Netherlands), the Venetian Lagoon and a number of cruising grounds in the UK.
Background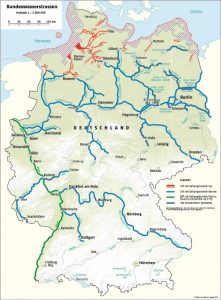 In Germany, you need no licence to operate a pleasure craft on the over 700km of navigable waterways in Berlin, Brandenburg, Hesse, Mecklenburg-Western Pomerania, Rhineland-Palatinate, Saxony-Anhalt and the Saarland, if you have a charter permit.
ADAC believes that the charter permit, i.e. a temporary boating licence, will help considerably to render holidays on German watercourses more attractive, encouraging newcomers to water-based activities. In fact, the ever increasing number of charter customers as well as the diversity of domestic cruising grounds suggest that Germany is meanwhile on a par with Ireland, France or the Netherlands.
To maintain such a level in the long term, ADAC calls for considering the expansion of cruising grounds where only a charter permit is required and keeping a watchful eye on the quality of the briefings. Proposals for additional cruising grounds have already been submitted to the relevant ministry.
Charter permit requirements
In certain German cruising grounds, you can operate a rented pleasure craft without the required skipper qualification for inland waters. The temporary licence is only valid on the inland waterways and the duration shown in the certificate. It is not a full licence for operating pleasure crafts and therefore does not substitute the official skipper qualification for inland waterways. It is only valid for the length of the rental period.
Prerequisites for charter permits: 
An in-depth introduction to theory and practical use of the rental boat (at least 3 hours) by the charter company.
The boat must not exceed 15m in length.
A maximum of 12 persons are allowed on board.
Speed limit is 12kph.
Additional requirements may apply: 
Passage is restricted to the fairway.
Cruising is forbidden from wind force 4.
All persons on board must wear lifejackets.
Cruising is allowed only during daytime.
Applies to some points along the Müritz-Elde waterway: Boaters must phone the charter company to report their passage and/or to inquire about the accessibility (wind, weather).
Charter permit routes
Inland waterways where you can drive with a temporary licence (charter permit)
No.
Waterway
From (km mark)
To (km mark)
Restrictions
1
Dahme waterways with its major and secondary routes as listed in § 21.01 no. 5 of the German regulation on inland waterways
10.3
(upstream of Neue Mühle lock (new mill))
26.04
(upstream of Teupitz watercourse confluence)
2
Havel-Oder waterways (HOW)
2.1
Finowkanal
89.3 (Liepe lock)
57.37 (Zerpen lock)
2.2
Werbellin waterways
4
19.8
3
River Lahn
70
137.07 (Lahnstein habour)
4
Müritz-Elde waterways (MEW)
4.1
MEW
0.95 (Dömitz lock)
121 (start of lake Plauer See)
4.2
MEW - lake Plauer See
121 (start of lake Plauer See)
126 (Lenz)
1. Cruising is restricted to the marked fairway

2. Cruising is forbidden from wind force 4 (Beaufort)

3. All persons on board must wear lifejackets

4. Boaters must phone the charter company to inquire about the accessibility (wind, weather)

5. Boaters must phone the charter company to report their passage
4.3
MEW
126 (Lenz)
152.50 (clinic on lake Müritz)
1. Cruising is restricted to the marked fairway

2. Cruising is forbidden from wind force 4 (Beaufort)

3. All persons on board must wear lifejackets
4.4
MEW
152.50 (clinic on lake Müritz)
167 (exit Müritz harbour village on lake Claassee)
1. Cruising along fairway markings on the western shore

2. Cruising is forbidden from wind force 4 (Beaufort)

3. All persons on board must wear lifejackets

4. Boaters must phone the charter company to inquire about the accessibility (wind, weather)

5. Boaters must phone the charter company upon reaching their final destination or if breaking the journey
4.5
MEW
167 (exit Müritz harbour village on lake Claassee)
180 (Buchholz)
4.6
Stör waterways
0.0 (entrance point to MEW)
19.88 (entrance point to lake Schweriner See)
4.7
Stör-Wasserstraße
19.88
44.70 (Hohen Viecheln)
1. Cruising is restricted to the marked fairway

2. Cruising is forbidden from wind force 4 (Beaufort)

3. All persons on board must wear lifejackets

5
Müritz-Havel waterways (MHW) with its major and secondary routes as listed in § 24.01 no. 3 of the German regulation on inland waterways
0.0
31.8
6
Upper Havel waterways (OHW) with its major and secondary routes as listed in § 24.01 no. 2 of the German regulation on inland waterways
Malzer canal 43.95 (Liebenwalde lock)
94.41 (Neustrelitz harbour)
OHW mit den zu diesem Abschnitt gehörenden Haupt- und Nebenstrecken gemäߧ 24,01 Buchstabe a) der BinSchStrO
Mzk 43.95
(Schleuse Liebenwalde)
15.90
(Schleuse Zehdenick)
Obere Havel-Wasserstraße (OHW) mit den zu diesem Abschnitt gehörenden Haupt- und Nebenstrecken gemäß

§24.01 Buchstabe a) der BinSchStrO
15.9
(Schleuse Zehdenick)
94.4
(Hafen Neustrelitz)
7
Peene
2.50 (Malchin)
a) 34.90 (Demmin)

b) 104.60
(Peenestrom) for holders of a sports boat driving license for coastal waters or an equivalent certificate
Lake Kummerower See: cruising is forbidden from wind force 4 (Beaufort)


8
Rüdersdorfer Gewässer mit den zu diesem Abschnitt gehörenden Haupt- und Nebenstrecken gemäß § 21.01 Buchstabe d) der BinSchStrO
0
3.78 (downstream Woltersdorf lock)
9
River Saale
89.20 (Trotha lock)
115.22 (Rischmühlenschleuse lock)
10
River Saar
87.6
German-French borders
11
Spree-Oder waterways (SOW)
11.1
River Drahendorf Spree
Total length
11.2
Gosen canal
Total length
11.3
Lake Seddinsee
Total length
11.4
Seddinsee
Total length
12
Lower Havel waterways (UHW)
12.1
Potsdam Havel river (PHv) with its major and secondary routes as listed in § 22.01 no. 1 of the German regulation on inland waterways
28.00 (Babelsberg gate)
0.00 (entrance point to UHW)
Lake Schwielowsee: cruising is forbidden from wind force 4 (Beaufort)
12.2
Lower Havel waterways (UHW) with its major and secondary routes as listed in § 22.01 no. 1 of the German regulation on inland waterways including the Beetzsee-Riewendsee waterways
56.00 (Brandenburg)
67.50 (Plaue)
1. Brandenburg lower Havel: open for boats
Silo canal: closed for boats

2. Lake Plauer See and lake Breitlingsee: cruising is forbidden from wind force 4 (Beaufort)

3. Lake Plauer See:
cruising is only allowed between the 63.20km and 67.00km marks and along the outermost edge of the fairway (line of buoys)

4. For crossing areas at the 56.00km and 67.00km marks please also note:
crossing of the UHW is only permitted, if it is safe. Before crossing the UHW coming from the lakes Beetzsee-Riewendsee waterways and heading for the Brandenburg lower Havel, holders of the charter permit must call the Brandenburg suburban lock to enquire if the UHW is clear

12.3
UHW with its major and secondary routes as listed in § 22.01 no. 1 of the German regulation on inland waterways
67.50 (Plaue)
145.80 (Havelberg)
No cruising if water level measures more than 130cm at the Rathenow downstream gauge
12.4
UHW with confluence area of lower Havel river and its major and secondary routes as listed in § 22.01 no. 1 of the German regulation on inland waterways
145.80
(Havelberg)
156.00 (Quitzöbel)
No cruising if water level measures more than 130cm at the Rathenow downstream gauge