Ancora Marina


Details
Portrait
Display
In der Lübecker Bucht, nahe dem Naturpark "Holsteinische Schweiz" liegen Sie mit Ihrer Yacht in einer der modernsten Full-Service (Werft, Yachtshop, Tankstelle und Dienstleistungszentrum) Marinas Europas.
Insgesamt bietet der mit 5 Sternen ausgezeichnete Hafen der ancora Marina 1400 Liegeplätze. Die Schwimmstege sowie die festen Steg- und Pieranlagen sind für Schiffe von 6 bis 35 Metern Länge und einem Tiefgang bis zu 4 Metern ausgelegt.
Selbstverständlich sind alle Plätze mit Wasser- und Stromanschluss (16 A) ausgestattet. Sicherheit wird bei uns großgeschrieben – neben einem Wachdienst helfen Überwachungskameras an speziellen Stellen, einen größtmöglichen Sicherheitsstandard zu bieten.
Während Ihres Urlaubstörns bieten wir Ihnen PKW-Einstellplätze.
Mit dem Transportsystem für Schiffe bis 70 t werden Yachten auf unseren Lagerböcken oder eigenen Trailern im Winterlager abgestellt.
Sie haben die Wahl zwischen Außenlager (20.000 qm), unbeheizter Halle (11.000 qm),
und temperierter Halle (10.000 qm).
Location
Map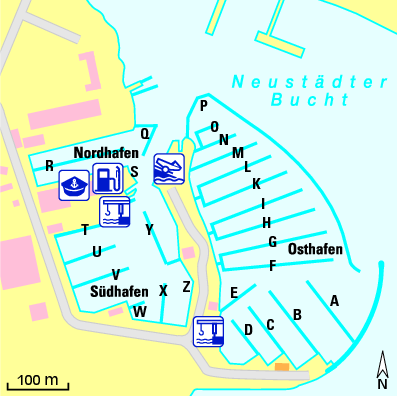 Facts & figures
Opening times
1.1.-31.12.
Approach
Approach
Problemlos. Aus der Lübecker Bucht bei Tag der Betonnung, bei Nacht zunächst einer 348°-Richtlinie (2xOc.4s) und dann einer 304°-Richtlinie, danach der Beschilderung zum Gästesteg im Nordhafen folgen.
GPS
54°5,59' N 10°48,44' E
Characteristics
Mehrfach unterteiltes Hafenbecken, seeseitig durch eine Spundwand begrenzt. Zahlreiche Liegeplätze an Schwimm- und Holzstegen sowie an der Pier. Marina closed at night. Marina guarded at night.
Prices
ADAC reference price
ADAC reference price* (EUR)
19.-
Rate (EUR)
Berth/night
16.- (unter 8 m) bis 64.- (30 m)
Slipway
17.-
Crane
ab 96.-
Included
Shower
included
Electricity
included
Fresh water
included
Discount
5% für ADAC auf Tagesliegeplätze
Payment (EUR)
Sanitäranlagenbenutzung/Nacht 2.50 (pro Person/ab 2. Person)
Cashless payment
Maestro
Yes
Visa
Yes
Mastercard
Yes
* ADAC reference price (EUR) Total rate per peak-season overnight stay at a marina. It includes the rate for a 10x3.3m boat, two adults incl. shower, electricity and fresh water.
Charteranbieter in der Marina
Travel information
Neustadt ist nicht so jung wie sein Name vermuten lässt. Allerdings zerstörten Brände und der Dreißigjährige Krieg die meisten der historischen Gebäude. Eine glückliche Ausnahme stellt die Stadtkirche dar mit einer Bausubstanz aus dem 13. Jh. und einem Renaissance-Altar. Ebenfalls noch aus dem 13. Jh. stammt das backsteinsolide Kremper Tor mit seinem Stufengiebel. Hier logiert das Ostholstein-Museum mit prähistorischen Fundstücken der Region sowie das Cap Arcona-Museum. In Letzterem wird das tragische Schicksal der KZ-Insassen dokumentiert, die beim Untergang der Cap Arcona und zweier weiterer Schiffe 1945 den Tod fanden. Nicht ganz so alt, wie er aussieht, ist der Pagodenspeicher von 1829 mit seinem ungewöhnlichen, sechsfach gestuften Dach. Der massive Fachwerkbau diente bis ins 20. Jh. als Lagerhaus für Getreide.
Contact
Harbour master
Availability
(1.4-31.10.) 7.30-18 (Mo-Fr), 10-17 (Sa), 10-15 (So), danach täglich Gästedienst bis 22 Uhr, (1.11.-31.3.) 7.30-17 (Mo-Fr). Harbour master's staff speak German and English.
Address
D
23730
Neustadt in Holstein
Contact information
Search number in hardcopy marinas guide
DO480