Bassin de l' Ouest

Details
Map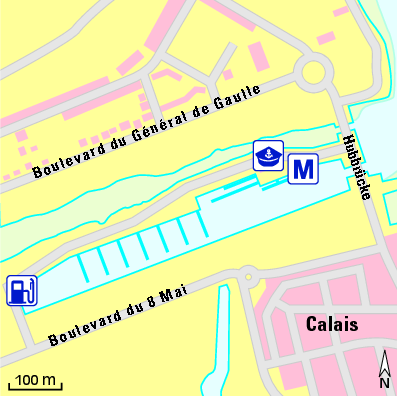 Facts & figures
Opening times
1.1.-31.12.
Approach
Approach
Enter the outer harbour passing the two lighted breakwaters jutting out into the sea (Fl(2)R 6s 17M/Iso G 3s 9M). Mind shallow waters approx. 1nm NW of harbour. The lighthouse at the harbour's southern end is a prominent landmark (Fl(4) 15s 59m 22M). Head for the basin W of the ferry dock, mind the keep-to-stb rule, ferry traffic and traffic signals. The dock gate before the basin is open from approx. HW -2h/+2.5hrs, swing bridge opening hours are HW -1h and -2h /+1.25hrs and +2.5hrs. Mind the occasionally strong tidal cross current as well as the ferry traffic when entering the outer harbour. Strong SW-NE winds create swell, also in the outer harbour if wind comes from N. Keep a listening watch on VHF on channel 17 during the entire approach.
GPS
1°50,91' N 50°57,72' E
Characteristics
Marina closed at night. Marina guarded at night.
Prices
ADAC reference price
Rate (EUR)
Berth/night
auf Anfrage
Cashless payment
Maestro
Yes
Visa
Yes
Mastercard
Yes
* ADAC reference price (EUR) Total rate per peak-season overnight stay at a marina. It includes the rate for a 10x3.3m boat, two adults incl. shower, electricity and fresh water.
Travel information
The Flemish Renaissance-style town hall (1910-1922) is well worth seeing. It forms a nice backdrop for the six figures of Auguste Rodin's famous bronze sculpture, The Burghers of Calais.
Contact
Harbour master
Availability
0-24. Harbour master's staff speak German and English.
Contact information
Search number in hardcopy marinas guide
FA135