Bassin des Chalutiers

Details
Map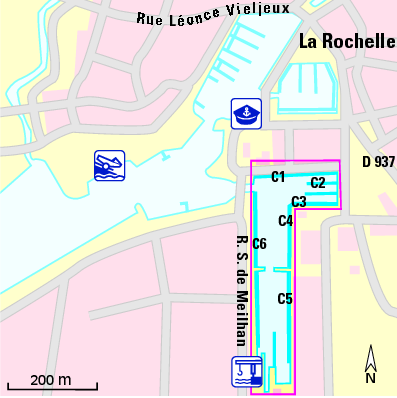 Facts & figures
Opening times
1.1.-31.12.
Approach
Approach
Approach from N on the fairway E of Île de Ré island, follow the leading lights on Pointe du Crouin in the N (Fl 5s 22-18M) and on NW hook of Île de Ré (FL(4) 15s 27M) for orientation at night; beware the shallow areas marked by cardinal buoys. Twin buoys (Fl(3)G 12s/fl(3)R 12s) before the NS bridge (vertical clearance approx. 30m), the passage itself is lighted by Iso 4s 12M. Then, head SSW passing the Plateau du Lavardin shoals marked by an isolated danger mark (Fl(2) 6s 7M). Yachts approaching from the south will pass the NW hook of Île d'Oléron island (Fl10s 28M) to pt, if you are unfamiliar with the area do not use the fairway running E of the island. Approaching from either N or S, follow a 059° leading line (DIR Q+Fl 4s DAY 14M/Q+Fl 4s DAY 14M) and mind the W cardinal buoy east of Port des Minimes. Follow channel marked by cylindrical buoys to pt up to the harbour.
Prices
ADAC reference price
Rate (EUR)
* ADAC reference price (EUR) Total rate per peak-season overnight stay at a marina. It includes the rate for a 10x3.3m boat, two adults incl. shower, electricity and fresh water.
Travel information
Today, the former stronghold of the Hugenots is among the most attractive French coastal towns. Mighty defence towers watch over the old harbour, and the arcaded streets of the historic city centre exude a Mediterranean atmosphere. The 16th century town hall (Hôtel de Ville) is one of the city's most important historic monuments.
Contact
Harbour master
Availability
0-24. Harbour master's staff speak English.
Contact information
Search number in hardcopy marinas guide
FA295