Berchinger Yacht Club e.V.

Details
Map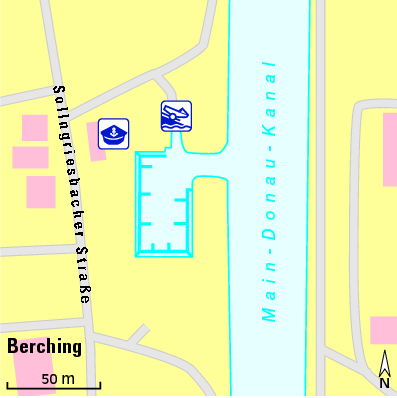 Facts & figures
Opening times
1.4.-Ende Okt
Approach
Approach
Direkt aus dem Fahrwasser. Gastliegeplätze direkt gegenüber der Einfahrt. Am nördlichen Gästesteg Unterwasserbauten, dort 0,9 m Tiefgang möglich. Vorbeifahrende Schiffe, insbesondere Fahrgastschiffe und Schubverbände, können den Wasserstand kurzzeitig um 0,5 m sinken lassen, dann erheblicher Sog in der Einfahrt.
GPS
11°26,21' N 49°6,78' E
Characteristics
Viereckiges Becken, durch eine Landzunge vom Kanal getrennt. Zahlreiche Liegeplätze an Feststegen mit Fingerstegen entlang der Uferböschung. Blick auf Grünflächen, stellenweise auf eine Halle am gegenüberliegenden Kanalufer. Marina closed at night.
Prices
ADAC reference price
ADAC reference price* (EUR)
11.-
Rate (EUR)
Berth/night
9.- (unter 7 m) bis 16.- (über 12 m)
Slipway
6.-
Included
Shower
included
Fresh water
included
* ADAC reference price (EUR) Total rate per peak-season overnight stay at a marina. It includes the rate for a 10x3.3m boat, two adults incl. shower, electricity and fresh water.
Travel information
Berching mit seinem vollständig erhaltenen Mauergürtel gilt als das "Rothenburg der Oberpfalz". Die rund 6 m hohen Stadtmauern und der zum Teil noch begehbare Wehrgang aus dem späten Mittelalter überstanden die Wirren der Kriege so gut wie unbeschadet. Besonders beeindrucken die vier Toranlagen mit ihren schweren hölzernen Türflügeln und der langgestreckte Straßenmarkt, den Fachwerkhäuser mit schmucken Giebelfassaden säumen: Die hohen Giebelfronten charakterisieren die Bauweise der Oberpfalz, die flachen Giebel sind typisch für das Altmühltal. Kunstinteressierten sei ein Besuch der Kirche St. Lorenz und der Stadtpfarrkirche St. Mariae Himmelfahrt empfohlen. Vor allem St. Lorenz, die in der Vorstadt gelegene ältere Kirche, glänzt durch eine reiche Ausstattung, darunter wertvolle Tafelbilder eines unbekannten Meisters der Donauschule, deren bekanntester Vertreter Albrecht Altdorfer ist.
Contact
Harbour master
Address
Berchinger Yacht Club e.V.
D
92334
Berching
Contact information
Search number in hardcopy marinas guide
DS392