Bootshafen Kühlungsborn

Details
Map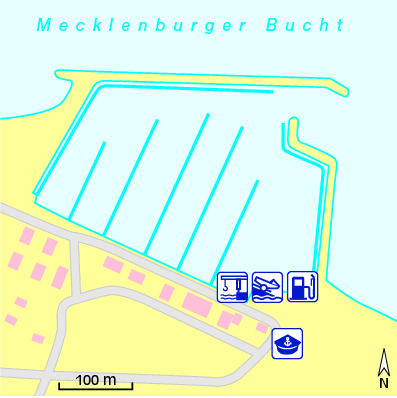 Approach
Approach
Tag und Nacht möglich. Hafeneinfahrt befeuert (F.R/F.G).
GPS
54°9,22' N 11°46,38' E
Characteristics
Durch zwei Steinmolen eingefasstes, rechteckiges Hafenbecken mit Schwimm- und Molenstegen sowie Längsliegeplätzen. Marina guarded at night.
Prices
ADAC reference price
ADAC reference price* (EUR)
18.- zzgl. Frischwasser
Rate (EUR)
Berth/night
14.- (bis 8 m), 16.- (bis 9 m), 18.- (bis 10 m ), 21.- (bis 11 m), 22.- (bis 12 m), 24.- (bis 13 m), 26.- (bis 14 m), 28.- (bis 15 m), 30.- (bis 16 m), 32.- (bis 17 m), zusätzlich. 2.- je angefangenen m (ab 17 m) inkl. 2 P
Person/night
2.50 ab 3. Person
Slipway
8.- bis 15.-
Crane
60.- bis 206.-
Included
Shower
included
Fresh water
included
Discount
7. Liegetag kostenfrei.
* ADAC reference price (EUR) Total rate per peak-season overnight stay at a marina. It includes the rate for a 10x3.3m boat, two adults incl. shower, electricity and fresh water.
Travel information
Hauptattraktionen sind der 4 km lange Strand samt Promenade und Leuchtturm sowie die Schmalspurbahn "Molli". Sie ist mehr als 100 Jahre alt und verkehrt bis zu zwölf mal täglich zwischen Kühlungsborn und Bad Doberan, das wegen seiner herrlichen Klosterkirche aus dem 14. Jahrhundert und seiner klassizistischen Gebäude einen Besuch lohnt. Ein weiterer Anziehungspunkt ist Heiligendamm, die "weiße Stadt am Meer", mit seinem von weiß verputzten, klassizistischen Häusern gesäumten Kurplatz und dem Grand Hotel.
Contact
Harbour master
Availability
6-21. Harbour master's staff speak German and English.
Contact information
Phone
+49 38 29 34 10 55, Mobil +49 1 51 12 11 05 65
Search number in hardcopy marinas guide
DO620