Chichester Marina

Details
Map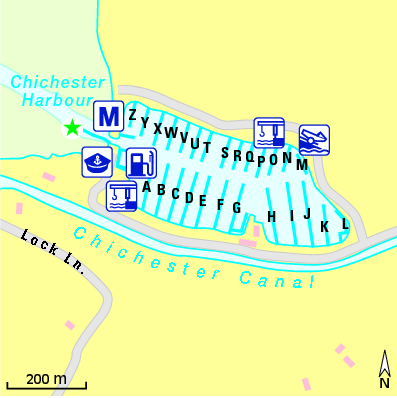 Facts & figures
Opening times
1.1.-31.12.
Approach
Approach
Von See kommend die Tonne West Pole (Fl.R.5s.7M) und Chichester Bar (Fl(2)R.10s.4M), dort wird auch der aktuelle Wasserstand über der gleichnamigen Barre angezeigt, an Stb passieren. Zwischen den Tonnen Eastoke (Q.R.) und W Winner (Q.G.) Richtung N in das Wattgebiet des Chichester Hafens. Danach teilt sich die Fahrrinne in den Emsworth Channel (Richtugn N) und den Chichester Channel (Richtung ENE), diesem weiter folgen. Später Richtung NNE (033°-Richtlinie). Nach Passieren der Chalkdock-Bake mit 082° zur Fairway-Tonne. Weiter Richtung ESE, dann nach NE und zur Marina an Stb. Warteschlengel vor der Schleuse zum Hafenbecken an Stb. Schleusenbetriebszeit von 4 vor bis 4 nach HW, Schleusensignale beachten. Höchstgeschwindigkeit 6 kn. Beste Ansteuerungszeit ist 3 vor bis 1 nach HW.
GPS
0°49,53' S 50°48,3' E
Characteristics
Durch Deich und Schleuse zum Meer begrenztes, ovales Hafenbecken. Liegeplätze mit seitlichen Auslegern an zahlreichen Holzschwimmstegen. In ländlicher Umgebung. Marina closed at night. Marina guarded at night.
Prices
ADAC reference price
ADAC reference price* (GBP)
24.50
Rate (GBP)
Berth/night
2.45 pro Meter
Included
Fresh water
included
Discount
20% Mo-Fr, maximal 5 Nächte
Cashless payment
Maestro
Yes
Visa
Yes
Mastercard
Yes
* ADAC reference price (GBP) Total rate per peak-season overnight stay at a marina. It includes the rate for a 10x3.3m boat, two adults incl. shower, electricity and fresh water.
Travel information
Lohnenswert ist ein Spaziergang im historischen Zentrum von Chichester, das von einer mittelalterlichen Stadtmauer umgeben ist. Neben dem Marktkreuz, einem prachtvollen achteckigen Pavillon von 1501, ragen die Türme der Chichester Cathedral empor. Der Bau wurde im 11. Jh. begonnen und bis zum Beginn des 20. Jh. stetig verändert. Berühmt ist die Kirche für ihre Kunstwerke aus 9 Jahrhunderten, insbesondere das Altarbild von Graham Sutherland (1962) und die Glasmalereien von Marc Chagall (1978). Beide Werke sind dem von 1955-77 amtierenden Dekan der Kirche, Walter Hussey, zu verdanken, dessen private Kunstsammlung in der Pallant House Gallery zu bewundern ist. 2 km westlich des Stadtzentrums zeugt der "Fishbourne Roman Palace", der auf das 1. Jh. n. Chr. zurückgeht, von der ersten Blütezeit Chichesters. Hier sind u. a. noch prachtvolle Fußbodenmosaike erhalten.
Contact
Harbour master
Availability
0-24. Harbour master's staff speak English.
Address
GB
PO20 7EJ
Birdham, Chichester
Contact information
Search number in hardcopy marinas guide
GB425