Deutsch Schweizerischer Motorboot Club e.V.

Details
Map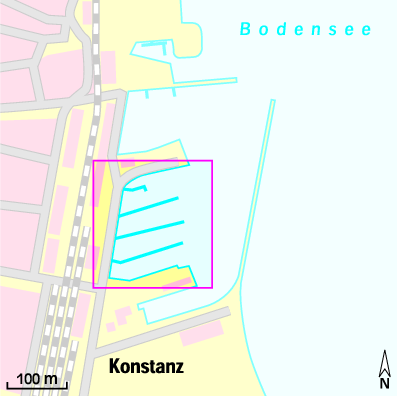 Approach
Approach
Vom See kommend im 90°-Winkel in das mittlere Becken. Auf Fahrgastschiffe achten.
GPS
9°10,91' N 47°39,63' E
Characteristics
Dreigeteiltes, von mehreren Betreibern genutztes Hafenbecken, durch eine lange Betonmole eingefasst. Mehrere Steganlagen mit Dalben. Bahnhof angrenzend.
Prices
ADAC reference price
ADAC reference price* (EUR)
14.50
Rate (EUR)
Berth/night
12.50 (unter 10 m) bis 19.50 (über 12 m)
Shower
1.- (4 Min.)
Included
Electricity
included
Fresh water
included
* ADAC reference price (EUR) Total rate per peak-season overnight stay at a marina. It includes the rate for a 10x3.3m boat, two adults incl. shower, electricity and fresh water.
Travel information
Die Bandbreite der Sehenswürdigkeiten von Konstanz reicht von Resten des spätantiken Römerkastells über mittelalterliche Kirchenbauten, Patrizier- und Zunfthäuser bis hin zu großen zusammenhängenden Jugendstil- und Gründerzeit-Ensembles. In den Weltkriegen blieb die Stadt verschont, weshalb die mittelalterliche Altstadt nahezu lückenlos erhalten ist. Als ehemaliger Bischofssitz hat die Stadt ein reiches sakrales Erbe vorzuweisen, dessen Höhepunkt das Konstanzer Münster (1086) ist. Seine eindrucksvolle Krypta geht noch auf einen Vorgängerbau aus dem 10. Jh. zurück, während die heutige dreischiffige Säulenbasilika mit ihren zahlreichen Seitenkapitellen ab dem 11. Jh. entstand. Vom Turm des Münsters genießt man einen herrlichen Ausblick über Stadt und See.
Contact
Harbour master
Address
Deutsch Schweizerischer Motorboot Club e.V.
D
78462
Konstanz
Contact information
Search number in hardcopy marinas guide
DS740