im-jaich Lloyd Marina Bremerhaven

Details
Map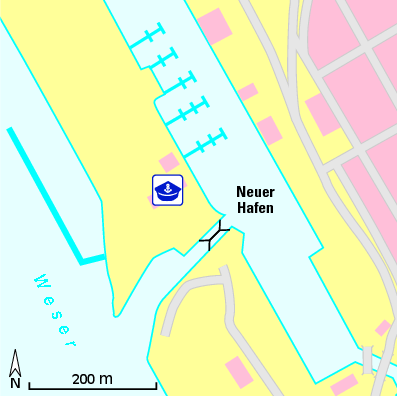 Facts & figures
Opening times
1.1.-31.12.
Approach
Approach
Von See kommend in die Wesermündung. Auf Höhe des Leuchtturms Bremerhaven durch die Schleuse "Neuer Hafen Lock" zwischen Bremerhaven Unter- und Oberfeuer (2xIso.4s) einlaufen. Anmeldung über Kanal 69 oder über Telefonnummer (04 71) 9 41 28 40. Auf Berufsschifffahrt achten. Der Ebbstrom kann auf der Weser mit über 4 kn setzen. Bedienzeit der Schleuse (Mai-Sep) 6-22.
GPS
8°34,08' N 53°32,66' E
Characteristics
Rechteckiges Hafenbecken unmittelbar hinter der Schleuse. Liegeplätze an Betonschwimmstegen mit Fingerstegen. Blick auf das Klimahaus Bremerhaven 8° Ost. Marina closed at night.
Prices
ADAC reference price
ADAC reference price* (EUR)
15.50
Rate (EUR)
Berth/night
12.- (10 m)
Jetty berth/season
1090.- (10 m)
Shower
1.- (6 Min.)
Electricity/kWh
-.50
Fresh water
1.- (100 Liter)
Discount
7. Liegetag kostenfrei
Cashless payment
Maestro
Yes
Visa
Yes
Mastercard
Yes
* ADAC reference price (EUR) Total rate per peak-season overnight stay at a marina. It includes the rate for a 10x3.3m boat, two adults incl. shower, electricity and fresh water.
Travel information
Touristischer Dreh- und Angelpunkt der Stadt an der Wesermündung ist das Deutsche Schifffahrtsmuseum. Dessen wertvollster Schatz, eine über 600 Jahre alte Hanse-Kogge, die 1962 im Weser-Schlick gefunden und aufwendig konserviert wurde, befindet sich gleich im Erdgeschoss. Hier dürfen Groß und Klein Modellschiffe durch ein riesiges Becken steuern. Blickfang unter den Oldtimern im Hafenbecken des Museums ist die Seute Deern. Eine Besichtigung dieser Dreimastbark bleibt sicher unvergessen. Erschütternd dagegen wirkt ein Gang durch die qualvolle Enge des U-Boots Wilhelm Bauer, das als U 2540 im Zweiten Weltkrieg erbaut wurde. Im Alten Hafen können ausgediente Binnen- und Seeschiffe besichtigt werden.
Contact
Harbour master
Availability
8-21. Harbour master's staff speak German and English.
Address
im-jaich Lloyd Marina Bremerhaven
D
27568
Bremerhaven
Contact information
Search number in hardcopy marinas guide
WZ485