Jachthaven Friese Hoek Lemmer

Details
Portrait
Display
Ihr Jachthafen direkt am Ijsselmeer
Jachthafen Friese Hoek zählt 275 Liegeplätze. Die Liegeplätze sind gross und mit allen für den Wassersportler wichtigen Annehmlichkeiten versehen. Jeder Liegeplatz hat einen eigenen Stromanschluss und es gibt auf den Steganlagen ausreichend Wasseranschlüsse. Auf dem Gelände befinden sich Transportkarren um das Gepäck oder Einkäufe zum Boot transportieren zu können.
Im Jachthafen gibt es einen grossen Parkplatz für Ihr Fahrzeug und das Ihrer Gäste. Der Parkplatz grenzt direkt an den Jachthafen und ist nachts beleuchtet. In der Sommersaison können 45 Autos (gegen Entgelt) in der geschlossenen Halle, die im Winter als Bootsstellplatz dient, untergestellt werden.
Selbstverständlich ist Jachthafen Friese Hoek mit modernen, komplett ausgestatteten sanitären Anlagen versehen. Damen und Herren verfügen über gesonderte Räumlichkeiten, jeweils mit Toiletten, Duschen, Waschbecken und Waschkabinen. In der Hochsaison werden die Räume mehrmals täglich gereinigt. An der Aussenseite des Gebäudes befinden sich mehrere Wasserhäne zum Salat-und Gemüsewaschen oder ähnlichem. Es gibt auf dem Gelände gesonderte Container für Abfall, Glas und Altöl, sowie einen extra Raum zum Reinigen der chemischen Toiletten und einen Waschsalon mit Waschmaschinen und Wäschetrockern. Letztendlich unsere Schmutzwasserstation für das Abpumpen von Fäkalien und Bilgewasser.
Der Jachthafen Friese Hoek verfügt über einen Schiffsladen wo allerlei Wassersportartikeln vorhanden sind und ebenso Lieferung von Camping Gas. Der Schiffsladen ist während der Fahrsaison 7 Tagen pro Woche geöffnet.
Map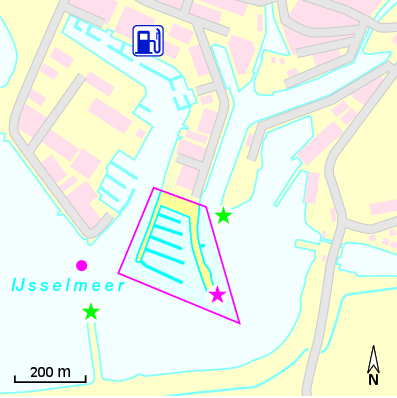 Facts & figures
Opening times
1.1.-31.12.
Approach
Approach
Tag und Nacht problemlos. Direkt aus dem betonnten Fahrwasser zur befeuerten Einfahrt (Iso.4s). Bei starkem Westwind stellenweise Schwell im Becken.
GPS
5°42,48' N 52°50,19' E
Characteristics
Nach Osten und Westen durch Molen, nach Süden durch einen Feststeg mit Spundwand eingefasstes Hafenbecken. Liegeplätze an zahlreichen Stegen vor Dalben, teilweise mit Fingerstegen, sowie vor Dalben entlang der nördlichen Kaimauer und der östlichen Mole. Werftbetriebe in Hörweite. Marina guarded at night.
Prices
ADAC reference price
ADAC reference price* (EUR)
20.- zzgl. WD, FW
Rate (EUR)
Berth/night
19.- (10 m)
Shower
-.50
Discount
7. Liegetag kostenfrei. 10% für ADAC auf Tagesliegeplatz, (Jun-Aug) 10% für ADAC auf Kranarbeiten.
* ADAC reference price (EUR) Total rate per peak-season overnight stay at a marina. It includes the rate for a 10x3.3m boat, two adults incl. shower, electricity and fresh water.
Charter businesses in this location
Contact
Harbour master
Availability
7.30-18. Harbour master's staff speak German and English.
Address
Jachthaven Friese Hoek Lemmer
NL
8531 HJ
Lemmer
Contact information
Search number in hardcopy marinas guide
IJ220-8