Leros Marina Evros

Details
Map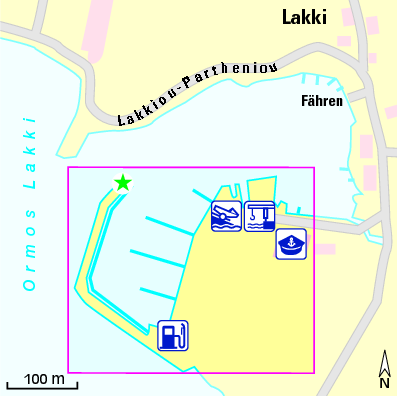 Facts & figures
Opening times
1.1.-31.12.
Approach
Approach
Zwischen Ak.Lakki (Fl(2)14s.9M) und Ak.Angistro (Fl(2)5s.5M) in die Bucht einlaufen und mit nordöstlichem Kurs zur Marina am Nordostende. Bei Meltemi starke Fallböen möglich, dann starker Schwell vor der Bucht.
Μεταξύ Ak.Lakki (Fl (2) 14s.9M) και Ak.Angistro (Fl (2) 5s.5M) τρέχει μέσα στο κόλπο και βορειοανατολική πορεία στη μαρίνα στο βορειοανατολικό άκρο. Σε δυνατόν Μελτέμι ισχυρές ριπές, ισχυρή φούσκωμα από τον κόλπο.
GPS
37°7,75' N 26°51,57' E
Characteristics
Großer Naturhafen, nach Südwesten durch einen Wellenbrecher begrenzt. Liegeplätze an Holzschwimmstegen vor Mooringleinen. Ort angrenzend. Werft in Hörweite. Blick über die Bucht auf die Berge. Marina closed at night. Marina guarded at night.
Prices
ADAC reference price
ADAC reference price* (EUR)
20.74
Rate (EUR)
Berth/night
10.17 (unter 8 m) bis 88.14 (über 25 m)
Electricity/kWh
-.30
Fresh water
6.- (1000 Liter)
Crane
384.20
Included
Shower
included
Discount
3% für Kreuzer Abteilung und 3% für Cruising Association
Cashless payment
Maestro
Yes
Visa
Yes
Mastercard
Yes
* ADAC reference price (EUR) Total rate per peak-season overnight stay at a marina. It includes the rate for a 10x3.3m boat, two adults incl. shower, electricity and fresh water.
Travel information
Während der italienischen Besatzungszeit war Leros Italiens bedeutendster Flottenstützpunkt in der Ägäis. Im März 1943 wurde die Insel von deutschen Flugzeugen massiv bombardiert, anschließend war sie zwischen Briten und Deutschen heiß umkämpft. Ein Soldatenfriedhof am Rand des Badeortes Alinda birgt die Opfer der Alliierten. Im Hafenort Lakki sind eine Reihe architektonisch interessanter Gebäude u. a. im Bauhaus-Stil zu sehen, die während der italienischen Besatzungszeit in den 1930er Jahren entstanden sind. Der Tourismus spielt auf Leros nur eine geringe Rolle. Dabei liegt der Inselhauptort Agia Marina/Platanos durchaus reizvoll. Unterhalb einer mächtigen Johanniterburg auf steilem Felsen zieht er sich von der Bucht von Alinda mit ihrem von Tamarisken beschatteten Strand über einen Bergsattel bis zur Bucht von Pandeliou hinunter.
Contact
Harbour master
Availability
8-21. Harbour master's staff speak English.
Contact information
VHF
Kanal 10, Ruf: Leros Marina
Search number in hardcopy marinas guide
ÄM780