Marina de Santander

Details
Map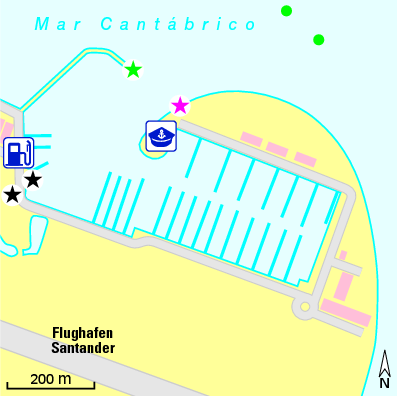 Facts & figures
Other leisure offers
Tauchschule
Approach
Approach
Einer 236°-Richtlinie bis Punta Rabiosa (Q.1s.6M.RACON/Iso.R.4s.6M) folgen, dann dem betonnten und befeuerten Fahrwasser flussaufwärts folgen. Nach Passieren der Tonne Nr. 17 (Fl(2+1)G.10s) nach WSW in die befeuerte Marina (Q.G.1s./Q.R.1s), nachts dem Richtfeuer am Nordwestende der Marina mit Kurs 235,6° folgen. Ortsunkundigen wird jedoch von einer nächtlichen Ansteuerung abgeraten.
GPS
3°48,6' S 43°25,86' E
Characteristics
Rechteckiges, von einer Kaimauer eingefasstes Hafenbecken. Liegeplätze an zahlreichen Schwimmstegen mit seitlichen Auslegern. Blick auf die Bucht und umliegende Berge. Kleiner Flughafen angrenzend. Marina guarded at night.
Prices
ADAC reference price
Rate (EUR)
Berth/night
10.97 (6 m) bis 119.45 (23 m)
Cashless payment
Maestro
Yes
Visa
Yes
Mastercard
Yes
* ADAC reference price (EUR) Total rate per peak-season overnight stay at a marina. It includes the rate for a 10x3.3m boat, two adults incl. shower, electricity and fresh water.
Travel information
Santander, die Hauptstadt Kantabriens, besticht mit dem Charme eines mondänen Badeortes des 19. Jh. Zwischen Zentrum und Meer liegt das großzügig angelegte Villenviertel El Sardinero mit einem noblen Spielcasino im Belle-Époque-Stil und einer schicken Strandpromenade. Auf der Halbinsel La Magdalena inmitten eines Parks steht der gleichnamige Palast, die ehemalige königliche Sommerresidenz. Das Meereskundemuseum zeigt neben Schiffsmodellen und präparierten Meerestieren eine Ausstellung zum Leben der Fischer.
Contact
Harbour master
Contact information
Search number in hardcopy marinas guide
EA310