Marina du Moulin Blanc

Details
Map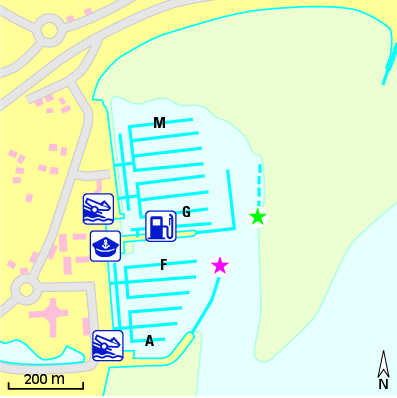 Facts & figures
Opening times
1.1.-31.12.
Approach
Approach
Tiden- und wetterunabhängig möglich. Nach Durchfahren der Engstelle "Goulet de Brest" (Westansteuerung von Brest) ab "Pointe du Portzic" mit Kurs ENE der Betonnung folgen. Den Militärhafen und den Industriehafen passieren und nach der Fahrwassertonne "Moulin Blanc" mit nördlichem Kurs zur Marina an Bb.
GPS
4°25,74' S 48°23,49' E
Characteristics
Von einem schwimmenden Wellenbrecher begrenzte, zweigeteilte Marina. Liegeplätze im nördlichen und südlichen Becken an zahlreichen Stegen. Ausstellungsgelände angrenzend. Marina guarded at night.
Prices
ADAC reference price
ADAC reference price* (EUR)
22.20
Rate (EUR)
Berth/night
22.20 (10 m)
Jetty berth/year
725.- (unter 5 m) bis 4493.- (30 m), jeder weitere Meter 177.30
Included
Shower
included
Fresh water
included
Cashless payment
Maestro
Yes
Visa
Yes
Mastercard
Yes
* ADAC reference price (EUR) Total rate per peak-season overnight stay at a marina. It includes the rate for a 10x3.3m boat, two adults incl. shower, electricity and fresh water.
Travel information
Eine großartige Aussicht auf den Hafen von Brest und die Elorn-Mündung bietet die Promenade "Cours Dajot" auf der alten Festungsmauer. An ihrem Ende erhebt sich an der Spitze der Landzunge das Château (12.-17. Jh.), das als einziges historisches Gebäude nach den Zerstörungen des Zweiten Weltkriegs erhalten blieb. Von hier fällt der Blick auf Europas größte Hebebrücke, die den Fluss Penfeld überspannt. Am östlichen Stadtrand befindet sich das futuristische, krebsförmig gebaute Hochseeaquarium und Meeresmuseum Océanopolis. Zwischen riesigen Becken kann man in das Leben der Weltmeere eintauchen – hier begegnet man tropischen Korallen, bunten Fischen und Haien ebenso wie Pinguinen, Robben und Eisbären aus den Polarmeeren.
Contact
Harbour master
Availability
8-20. Harbour master's staff speak English.
Contact information
Search number in hardcopy marinas guide
FA220