Marina Niderviller


Details
Portrait
Display
Heimathafen für Frankreich-Entdecker
Gleich hinter der deutsch-französischen Grenze liegt ein Revier, das die beiden europäischen Länder im wahrsten Sinne des Wortes verbindet. Nicht nur Geschichte und Kultur der Region waren mal von Deutschland und mal von Frankreich bestimmt und haben viele Gemeinsamkeiten entwickelt. Die Flüsse und Kanäle stellen mit ihren sehenswerten Wasserbauwerken noch immer eine lebendige Verbindung zwischen den Ländern dar. Da fast überall Deutsch gesprochen wird, ist dieses Revier besonders für deutschsprachige Kunden interessant.
Hafen
In der Marina Niderviller am Rhein-Marne-Kanal finden Boot und Crew Service, den es sonst in der Region Elsass-Lothringen nur selten am Wasser gibt. Neben den Wasserliegeplätzen gibt es ein Winterlager für Boote und einen eigenen Kran nebst Dieseltankstelle.
Die Sanitäranlagen sind mit Waschmaschine und Trockner, Behinderten-Badezimmer und getrennten Bereichen für Bordfrauen und -männer komplett nach modernem Standard gebaut. Untergebracht ist alles in einem Hafenhaus mit angeschlossener Werfthalle, in der nicht nur vier Yachten gleichzeitig repariert werden können, sondern auch zwei Ein-Zimmer-Apartements und eine große Ferienwohnung untergebracht sind. Zusätzlich gibt es auch Stellplätze für Reisemobile – für eine Nacht oder auch länger.
Location
Map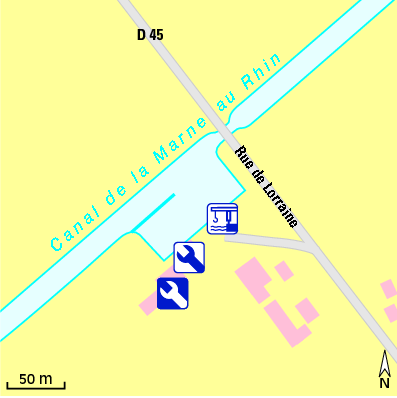 Facts & figures
Opening times
1.4.-31.10.
Other leisure offers
3 Km entfernt Franziskanerkapelle in Saarebourg u. Heimatmuseum, Kiny-Parc, Steingutfabrik in Niderviller
Approach
GPS
48°43,07' N 7°5,91' E
Characteristics
Viereckiges Hafenbecken, durch eine Mole vom Fahrwasser getrennt. Liegeplätze entlang der Kaimauer und der Außenmole.
Prices
ADAC reference price
ADAC reference price* (EUR)
14.60
Rate (EUR)
Berth/night
1.30 (pro Meter)
Jetty berth/season
32.- (pro qm)
Shower
-.30 (1 Min.)
Electricity/kWh
-.50
Fresh water
-.50 (50 Liter)
Crane
ab 55.-
Discount
10-25% Monatslieger, 10-20% Darlehensrabatt, 10% Kombinationsrabatt, 5% ADAC-Mitglieder, Seemeilen-Bonussystem
Cashless payment
Maestro
Yes
Visa
Yes
Mastercard
Yes
* ADAC reference price (EUR) Total rate per peak-season overnight stay at a marina. It includes the rate for a 10x3.3m boat, two adults incl. shower, electricity and fresh water.
Charteranbieter in der Marina
Contact
Harbour master
Availability
(Mai-Mitte Sept) 8-19, (Mitte Sept-Apr) 8-17. Harbour master's staff speak German and English.
Contact information
Search number in hardcopy marinas guide
MM165