Marina Söderköping

Details
Map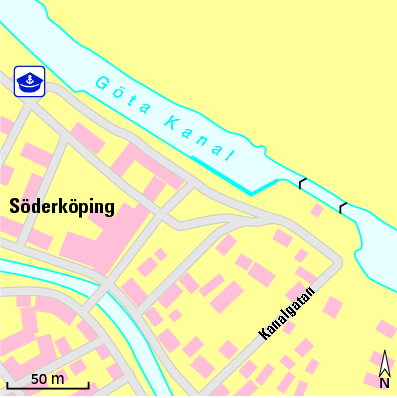 Approach
GPS
16°19,45' N 58°28,95' E
Characteristics
Am südlichen Ufer des Kanals gelegener Feststeg. Liegeplätze teilweise mit seitlichen Auslegern oder Moorings. Im Stadtzentrum mit Blick auf die Uferpromenade.
Prices
ADAC reference price
ADAC reference price* (SEK)
175.-
Rate (SEK)
Berth/night
175.-
Included
Shower
included
Fresh water
included
Payment (SEK)
Die ab 2.415.- SEK erhältlichen Tickets "Lake-to-Lake" oder "Whole-Göta-Canal" beinhalten alle Schleusengebühren, sowie die Liegegebühren in 21 Yachthäfen. Genauere Informationen erhalten Sie unter http://www.gotakanal.se/de.
* ADAC reference price (SEK) Total rate per peak-season overnight stay at a marina. It includes the rate for a 10x3.3m boat, two adults incl. shower, electricity and fresh water.
Travel information
Die idyllische Kleinstadt Söderköping wurde im 13. Jh. erstmals erwähnt und entwickelte sich bis zum 16. Jh. zu einem der führenden schwedischen Häfen für den nationalen und internationalen Handel, der auch bedeutende Kontakte zur Hanse pflegte. Aus dem Mittelalter sind noch einige Gebäude erhalten, z. B. die dreischiffige St.-Laurentius-Kirche aus Backstein und das Haus Johans III. Das Bild des Ortes wird außerdem geprägt von bunt bemalten und eng aneinander stehenden Holzhäusern aus dem 18. und 19. Jahrhundert. Südöstlich des Zentrums liegt die Kuranlage an der St. Ragnhild-Quelle, die zu Beginn des 19. Jahrhunderts Söderköping als erstem Heilbad Schwedens zu wachsendem Ansehen verhalf.
Contact
Harbour master
Availability
7-21. Harbour master's staff speak English.
Contact information
Search number in hardcopy marinas guide
VG120