Meldorfer Seglerverein e.V.

Details
Map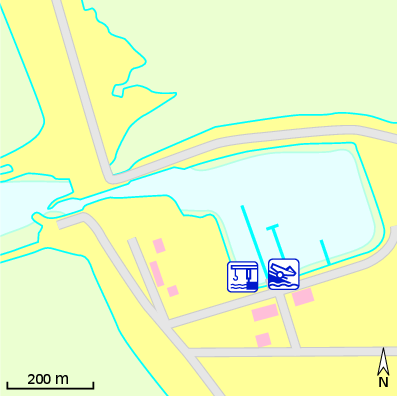 Approach
Approach
Aus dem "Süderpiep" in das mit Tonnen und Pricken markierte "Kronenloch". Weiter durch die weit herausragenden, markierten Leitdämme und durch das Sperrwerk (in den Sommermonaten nur bei Wasserständen über MHW geschlossen) in den Tidenhafen. Wasserstände, Strömung und die das Schießgebiet betreffenden Sperrsignale beachten.
Characteristics
Rechteckiges, eingedeichtes Hafenbecken mit Liegeplätzen an Stegen mit Fingerstegen. Bei einem Naturschutzgebiet. Marina closed at night.
Prices
ADAC reference price
ADAC reference price* (EUR)
10.-
Rate (EUR)
Berth/night
1.- (pro Meter)
Included
Shower
included
Fresh water
included
* ADAC reference price (EUR) Total rate per peak-season overnight stay at a marina. It includes the rate for a 10x3.3m boat, two adults incl. shower, electricity and fresh water.
Travel information
In Meldorf, der ältesten Stadt Dithmarschens, grüßt schon von weitem der altehrwürdige Dom vom steil ansteigenden Marktplatz. Der Backsteinbau birgt im gotischen Gewölbe des nördlichen Querschiffs einen 1992 restaurierten Bilderzyklus zur Schöpfungsgeschichte. Von hier aus bummelt man durch verwinkelte Gassen mit malerischen Bürgerhäusern. Nur 100 m vom Dom entfernt versetzt das Dithmarscher Landesmuseum den Besucher in vergangene Jahrhunderte zurück. Die ehemalige Meldorfer Gelehrtenschule ist ein Teil des Komplexes aus vier Museumsgebäuden. Das Landesmuseum bietet seinen Besuchern Einblicke in die Dithmarscher Geschichte und Lebensweise zwischen Mittelalter und Gegenwart.
Contact
Harbour master
Availability
Harbour master's staff is multilingual.
Address
Meldorfer Seglerverein e.V.
D
25704
Meldorf
Contact information
Search number in hardcopy marinas guide
DN330