Port Deauville Marina

Details
Map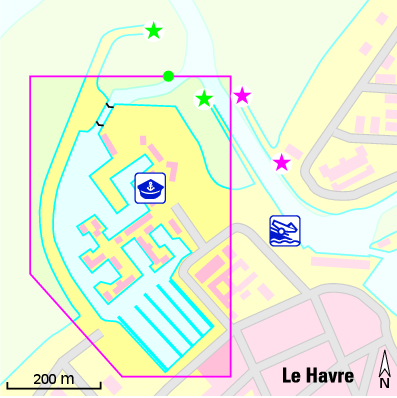 Approach
Approach
Das weiße Gebäude des Casinos an der Ostseite der Einfahrt als Landmarke. Nachts dem Richtfeuer auf der Ostmole (Oc.R.4s.12M/Oc.R.4s.10M) mit Kurs 148° folgen. Zwischen den weit rausragenden, zeitweise überspülten, mit Baken markierten und am Kopf befeuerten Leitwerken (Fl(4)WR.12s.7-4M/Fl.WG.4s.9-6M) in die Flussmündung und zu dem Becken an Stb, die Schleuse wird von ca. 2 vor bis 2 nach HW bedient. Die Zufahrt fällt 2,6 m hoch trocken. Bei Starkwinden aus nördlichen Richtungen wird die Ansteuerung problematisch. Das mit einer Ostkardinaltonne markierte Wrack ca. 2 nm und den mit einer Westkardinaltonne markierten Flachwasserbereich ca. 3,3 nm, jeweils nordöstlich der Zufahrt, beachten.
GPS
0°4,04' N 49°22,48' E
Characteristics
Großes, verwinkeltes Hafenbecken an der Mündung des Flusses Touques. Liegeplätze in der Lagunenstadt an zahlreichen Schwimmstegen mit seitlichen Auslegern. Nachbarmarina in unmittelbarer Nähe. Marina closed at night. Marina guarded at night.
Prices
ADAC reference price
Rate (EUR)
* ADAC reference price (EUR) Total rate per peak-season overnight stay at a marina. It includes the rate for a 10x3.3m boat, two adults incl. shower, electricity and fresh water.
Travel information
Der Aufstieg Deauvilles zum mondänsten Seebad der normannischen Küste ist eng mit dem Hippodrome verbunden. Zu den Rennen und Pferdeversteigerungen kommt noch heute der internationale Geldadel. In der Nähe der Rennbahn liegt die Villa Strassburger, zweifellos die imposanteste unter den vielen herrschaftlichen Villen. Der neonormannische Belle Époque-Bau war einst im Besitz der Familie Rothschild und kann besichtigt werden. Am Strand von Deauville sind die weißen Kabinen nach Prominenten benannt, die sich hier schon umzogen: Die Liste reicht von Liz Taylor bis Sean Connery, denn Anfang September zieht das "Festival des Amerikanischen Films" alle Jahre wieder viele Hollywood-Stars nach Deauville.
Contact
Harbour master
Availability
9-12, 14-18.
Contact information
Search number in hardcopy marinas guide
FA153