Porto Turistico Marina di Ragusa

Details
Map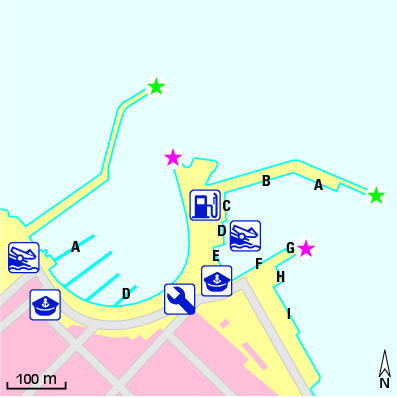 Approach
Approach
When approaching from S make for the two jutting lighted breakwaters approx. 2.75nm ESE of Scaramia lighthouse (Fl(2)W 8s 16M).
GPS
14°32,96' N 36°46,7' E
Prices
ADAC reference price
ADAC reference price* (EUR)
62.- (zzgl. Strom)
Rate (EUR)
Berth/night
62.- (10 Meter) bis 107.- (15 Meter)
Jetty berth/season
3000.- (10 Meter) bis 5400.- (15 Meter)
Jetty berth/year
3850.- (10 Meter) bis 6820.- (15 Meter)
Electricity/kWh
0.30
Included
Shower
included
Cashless payment
Maestro
Yes
Visa
Yes
Mastercard
Yes
* ADAC reference price (EUR) Total rate per peak-season overnight stay at a marina. It includes the rate for a 10x3.3m boat, two adults incl. shower, electricity and fresh water.
Contact
Harbour master
Contact information
Search number in hardcopy marinas guide
IS450