Royan Marina

Details
Map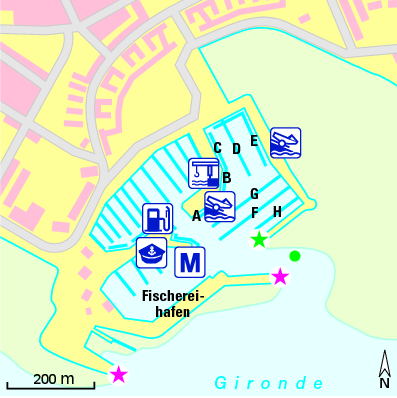 Approach
Approach
Vom Hauptfahrwasser der Gironde ab der grünen Fahrwassertonne R1 im 045˚-Winkel auf den südöstlichen Molenkopf (Fl(2)R.10s.12M) zuhalten. Von hier mit Kurs NW in die unbezeichnete Baggerrinne einlaufen. Starker Gezeitenstrom, durch Neerstrombildung bei Flut mit permanentem Versatz nach NW. Meldesteg an der Einfahrt zum inneren Hafenbecken.
Characteristics
Von Molen begrenzte, durch einen Damm in zwei Becken unterteilte Hafenanlage mit zahlreichen Stegen. Das innere Becken hinter dem Damm rechteckig, das äußere Becken L-förmig, zwischen dem Damm und der Mole. Im der See zugewandten Bereich der Fischereihafen (für Yachten gesperrt). Angrenzend der Fährhafen.
Prices
ADAC reference price
ADAC reference price* (EUR)
25.75
Rate (EUR)
Berth/night
9.- (unter 5.50 m) bis 37.20 (16,99 m)
Jetty berth/year
808.- (unter 5.50 m) bis 3609.- (16,99 m)
Cashless payment
Visa
Yes
Mastercard
Yes
* ADAC reference price (EUR) Total rate per peak-season overnight stay at a marina. It includes the rate for a 10x3.3m boat, two adults incl. shower, electricity and fresh water.
Travel information
Das ehemals beliebte Seebad wurde im Zweiten Weltkrieg fast vollständig zerstört und entstand nach 1945 wieder komplett neu. Wahrzeichen der Stadt ist der 65 m hohe Beton-Turm der Église Nôtre-Dame (1955-58). 11 km westlich vor Royan liegt im Meer der unter Denkmalschutz stehende Phare de Cordouan, der im 16. Jh. im Renaissancestil erbaut wurde und als ältester Leuchtturm Europas gilt. Der Bau misst fast 68 m und besitzt sechs Stockwerke. Durch ein monumentales Portal geht es über eine elegant gewendelte Treppe hinauf zum königlichen Appartement und zu einer Kapelle im zweiten Stock. Der Aufstieg über knapp 300 Stufen wird mit einem hinreißenden Blick über die Girondemündung bis zur Silberküste im Süden belohnt.
Contact
Harbour master
Availability
9-19. Harbour master's staff speak English.
Address
1, Quai de la Vieille Jetée
F
17200
Royan
Contact information
Search number in hardcopy marinas guide
FA350