Schutz- und Sicherheitshafen des Bundes – Helgoland

Details
Map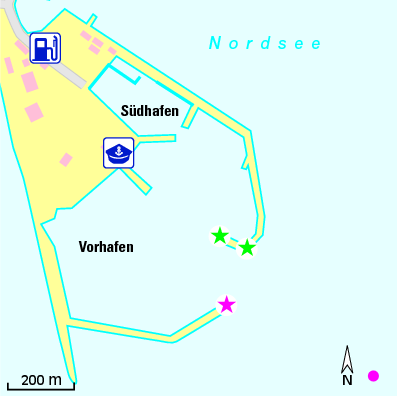 Approach
Approach
Vom betonnten und befeuerten Fahrwasser in den Hafen zu den Liegeplätzen im Südhafen. Bei starken Winden aus SE grobe See in der Einfahrt. Naturschutzgebiete und Gezeitenströmung beachten. Untiefe "Hogstean" 4 Kabellängen südlich der Südmole. Auf Fährbetrieb achten.
GPS
7°53,95' N 54°10,28' E
Characteristics
Von einer Innenmole begrenztes Hafenbecken. Liegeplätze im Päckchen an einem Steg und am Kai. Am Ortsrand.
Prices
ADAC reference price
Rate (EUR)
Berth/night
auf Anfrage
* ADAC reference price (EUR) Total rate per peak-season overnight stay at a marina. It includes the rate for a 10x3.3m boat, two adults incl. shower, electricity and fresh water.
Travel information
"Deutschlands einzige Hochseeinsel" gliedert sich in drei Teile: das Unter-, Mittel- und Oberland. Wie stark das Meer an der Küste nagt, wird besonders an der Nordwestspitze deutlich, wo mit der "Langen Anna" Helgolands Wahrzeichen steht. Zum Schutz gegen die Unterspülung des 48 m hohen Felsens wurde eine 1300 m lange Mauer ins Meer gebaut. Im Unterland sind vor allem die bunten "Hummerbuden" am Weg zum Südhafen sehenswert. In diesen ehemaligen Lagerschuppen der Fischer haben sich heute Kneipen, Geschäfte mit Seemannsbedarf und -mode sowie eine Ausstellung zum Lummenfelsen angesiedelt. Der Felsen im Nordwesten der Insel gilt als kleinstes Naturschutzgebiet der Welt. Hier nisten jährlich zwischen Mai und Juli etwa 2500 Brutpaare der Trottellumme, eines pinguinähnlichen Seevogels, auf schmalen Felsabsätzen. Im Juni und Juli stürzen sich ihre Jungen von den Felsen direkt ins Meer, vollziehen den einzigartigen "Lummensprung" – eine der Attraktionen von Helgoland.
Contact
Harbour master
Address
Schutz- und Sicherheitshafen des Bundes - Helgoland
D
27498
Helgoland
Contact information
Phone
+49 47 25 81 59 35 83
Fax
+49 47 25 81 59 35 85
Search number in hardcopy marinas guide
DN300