Segelklub Juist e.V.

Details
Map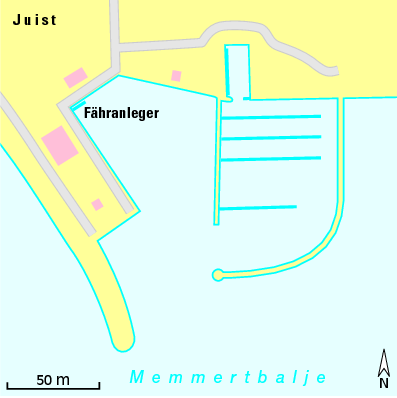 Facts & figures
Opening times
1.4.-15.11.
Approach
Approach
Von S über die Memmertbalje und das Nordlandfahrwasser (vom 1.5.-15.9. mit Pricken gekennzeichnet) oder über das mittlerweile versandete Juister Fahrwasser. Beide Fahrwasser fallen trocken, eine Ansteuerung ist mit ca. 1,5 m TG von 1h vor bis 1h nach HW möglich. An der Westseite des Hafenpriels ragt ein bei HW überspülter und mit Ostkardinalbaken markierter Leitdamm ca. 0,6 nm nach S. Auf Fähren achten.
GPS
6°59,87' N 53°39,71' E
Characteristics
Liegeplätze an zahlreichen Schwimmstegen mit Fingerstegen, durch eine halbrunde Mole vom Wattenmeer getrennt. Blick auf die gegenüberliegende Anlegestelle für Fahrgastschiffe.
Prices
ADAC reference price
ADAC reference price* (EUR)
20.-
Rate (EUR)
Berth/night
1.30 (pro Meter)
Electricity/night
3.-
Included
Shower
included
Fresh water
included
* ADAC reference price (EUR) Total rate per peak-season overnight stay at a marina. It includes the rate for a 10x3.3m boat, two adults incl. shower, electricity and fresh water.
Travel information
Auf Juist steht das Naturerlebnis im Vordergrund, und so verkehren hier auch keine Autos, sondern nur Pferdefuhrwerke. Empfehlenswert ist eine Fahrradtour vom Ort Juist in Richtung Westen. Durch das Inseldorf Loog geht es zum vogelreichen Hammersee, dem größten Süßwassersee auf einer Nordseeinsel. Anschließend kommt man am Billwäldchen vorbei, bis man kurz vor Inselende auf einen Bauernhof stößt – die "Domäne Bill". In der beliebten Ausflugsgaststätte gibt es hausgemachte Spezialitäten wie etwa den "Stuten", ein süßes Weißbrot mit Rosinen.
Contact
Harbour master
Availability
8.30-10, 17-18.
Contact information
Phone
Mobil +49 1 51 22 21 87 83
Search number in hardcopy marinas guide
DN550