Sportboothafen Fleckeby

Details
Portrait
Display
Unser Sportboothafen oder Yachthafen liegt an der Schlei / Große Breite, malerisch eingebettet in eine herrliche Naturlandschaft, fernab von Trubel und Hektik.
Die umliegende Landschaft, der Naturpark Hüttener Berge wartet auf Sie, Ihre Wanderschuhe werden unruhig, die Drahtesel (leihweise im nahegelegen Ort Fleckeby zu erhalten) scharren schon mit den Reifen. Die Schlei ist eine Bucht oder ein Fjord der Ostsee nördlich von Kiel, eine Landschaftsformung der 3. Eiszeit, von der Ostsee nach Westen verlaufend, tief eingeschnitten in die End- u. Grundmoränen-landschaft an der Schleswig-Holsteinischen Ostküste.
Die Schlei ist faktisch ein Binnengewässer, rechtlich eine Seewasserstraße (Sportbootführerschein See).
Von der Einmündung Ostsee (Schleimünde) bis zum Hafen in der Großen Breite sind es 20 sm.
Schleswig, am Ende der Schlei, ist 6 sm entfernt.
Auf der Schlei wechseln sich Engstellen wie z.B. die Missunder Enge (140 Meter breit) und große Ausbuchtungen wie die "Große Breite" (im Durchmesser 1,5 sm breit) ab.
Map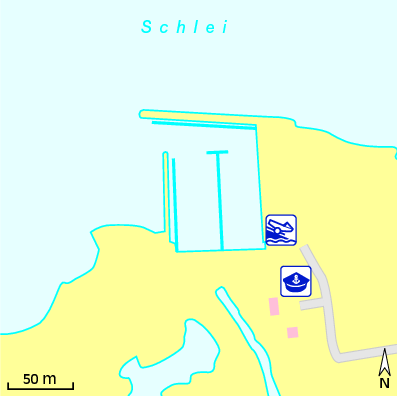 Approach
Approach
Aus der "Großen Breite" ab Tonne 69 mit Kurs 170°. Dann nach Bb dem betonnten Fahrwasser folgend in den Hafen.
GPS
9°41,92' N 54°29,49' E
Characteristics
Durch eine Steinmole eingefasstes, rechteckiges Hafenbecken mit Holzstegen und Dalben. Gärtnerisch gestaltetes Gelände. Wanderweg angrenzend.
Prices
ADAC reference price
ADAC reference price* (EUR)
11,20
Rate (EUR)
Berth/night
bis 8m 10.- jeder weitere Meter zzgl. 1,-
Jetty berth/season
642.- bis 1642,20
Shower
0,30 (pro Minute, Magnetkarte erforderlich)
Electricity/kWh
0,60
Slipway
10.-
Included
Fresh water
included
* ADAC reference price (EUR) Total rate per peak-season overnight stay at a marina. It includes the rate for a 10x3.3m boat, two adults incl. shower, electricity and fresh water.
Contact
Harbour master
Availability
Harbour master's staff speak German and English.
Contact information
Phone
+49 152 28 50 51 84
Search number in hardcopy marinas guide
DO250