St. Helier Marina
Details
Map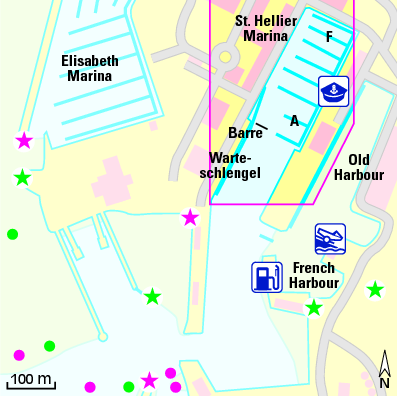 Approach
Approach
Zunächst einer 23°- (Oc.G.5s/Oc.R.5s) später einer 78°-Richtlinie (2xF.G) folgen. Der Vorhafen kann bis zu einem TG von 2 m tidenunabhängig angelaufen werden. Der Innenhafen ist durch eine Barre mit beweglicher Klappe abgetrennt und kann ca. von 3 vor bis 3 nach HW angelaufen werden. Vor der Barre befinden sich Warteschlengel. Ein grünes Licht signalisiert, dass die Klappe geöffnet ist. Im betonnten Fahrwasser stets am Stb-Rand halten, um den Schnellfähren ausreichend Manövrierraum zu lassen. Höchstgeschwindigkeit im Hafen 5 kn.
Prices
ADAC reference price
Rate (GBP)
Berth/night
19.90 (unter 7.99 m) bis 43.70 (20 m)
Electricity/night
5.25
Cashless payment
Maestro
Yes
Visa
Yes
Mastercard
Yes
* ADAC reference price (GBP) Gesamtbetrag für die Übernachtung in einer Marina während der Hauptsaison. Enthalten sind die Kosten für ein 10 Meter langes und 3,3 Meter breites Schiff mit zwei Erwachsenen, Nutzung Dusche sowie Frischwasseranschluss inklusive.
* Strom nicht inklusive.
Travel information
Das herausragendste kulturelle Ereignis der Insel Jersey ist das "Battle of Flowers"-Fest, das jährlich Anfang August stattfindet. Bei dieser Parade, die einem Karnevalsumzug ähnelt, fahren blumengeschmückte Wagen durch St. Helier. Es gibt eine Daytime Parade und eine Moonlight Parade. Erstmals fand diese 1902 anlässlich der Krönung von König Edward VII. statt. Während des Jersey Eisteddfod Festival of Performing Arts konkurrieren die neun ortsansässigen Ballettschulen miteinander. Sehenswert ist aber auch der Zoo von Jersey. Neben einer lebendigen Orang-Utan-Horde gibt es eine große Anlage für Flughunde.
Contact
Harbour master
Availability
, Wochentagszeiten: 7-21
Harbour master's staff speak English.
Contact information
Search number in hardcopy marinas guide
GB160