't Bassin

Details
Map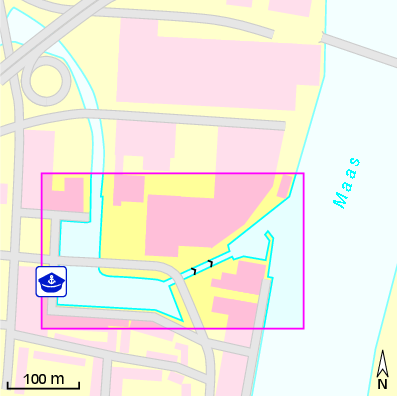 Approach
Approach
Schleuse vor der Einfahrt, Bedienung per Knopfdruck durch den Skipper. Durchfahrtshöhe der Brücke 3,35 m. Über die Zuidwillemsvaart Zufahrt bis 4,7 m Höhe möglich.
GPS
5°41,72' N 50°51,39' E
Characteristics
Rechteckiges Hafenbecken. Liegeplätze mit Fingerstegen entlang der südlichen Kaimauer. In der Innenstadt. Uferpromenade mit zahlreichen Galerien und Restaurants angrenzend.
Prices
ADAC reference price
ADAC reference price* (EUR)
16.50
Rate (EUR)
Berth/night
1.60 (pro Meter)
Electricity/kWh
-.50
Included
Shower
included
Fresh water
included
Cashless payment
Maestro
Yes
Visa
Yes
Mastercard
Yes
* ADAC reference price (EUR) Total rate per peak-season overnight stay at a marina. It includes the rate for a 10x3.3m boat, two adults incl. shower, electricity and fresh water.
Travel information
Seit dem Maastrichter Vertrag von 1992, der den Startschuss für die Einführung des Euro gab, ist der Name der Stadt zum Inbegriff für das gemeinsame Europa geworden. Sonst ist jedoch in der Hauptstadt von Limburg von Politik nicht viel zu spüren. Kirchen, Museen und alte Paläste verleihen der Römergründung (50 v. Chr.) ein historisches Gepräge, der Handel bestimmt die Gegenwart dieser Stadt. Das historische Zentrum liegt links der Maas. Sehenswert ist die romanische St. Servaasbasiliek, die mit ihrer von zwei Türmen flankierten Choranlage den Vrijthof, einen ehemaligen Friedhof und Hinrichtungsplatz, beherrscht. Sie entstand im frühen 11. Jh., ein Vorgängerbau wurde schon im 6. Jh. über dem Grab des Bischofs Servatius errichtet. Der Reliquienschrein dieses ersten Bischofs ist in der Schatzkammer zu sehen. Am rechten Maasufer liegt das Bonnefantenmuseum, ein modernes Backsteinensemble des italienischen Stararchitekten Aldo Rossi mit einem futuristischen, silberfarbenen Kuppelbau. Es beherbergt archäologische Funde und Malerei des 14.-17. Jh., u. a. von Pieter Brueghel d. Ä. und Peter Paul Rubens.
Contact
Harbour master
Availability
9-19. Harbour master's staff speak German and English.
Contact information
Search number in hardcopy marinas guide
NN620