Wassersportzentrum Kreusch

Details
Portrait
Display
Das Wassersport- & Freizeitzentrum Kreusch wurde 1967, also vor über 45 Jahren von mir, Manfred Kreusch, gegründet.
Meine Liebe zum Wassersport und meinen aktiven Einsatz bei nationalen und internationalen Wasserskiveranstaltungen veranlasste mich damals, mein Hobby zum Beruf zu machen. Mit Abschluss seines Ingenieurstudiums im Jahre 1990 wurde mein Sohn Christoph mein Partner in der Kreusch & Kreusch GbR.
Unsere Erfahrung und unser technisches Know-how machen uns für Sie zu einem kompetenten Partner rund um das Thema Wassersport.
Unser aktuelles Bootsprogamm umfasst die Marken Linssen Yachts, Rinker und Quicksilver.
Durch unsere intensive und erfolgreiche Zusammenarbeit mit Linssen Yachts haben wir uns zum Spezialisten für hochwertige Stahlyachten entwickelt. Unser Servicepaket umfasst Vertrieb von neuen und gebrauchten Schiffen, Liegeplätze in der eigenen Marina, Winterlager, Service, inkl. Werkstattwagen, Zubehörshop, Ausstellungshalle und Bootstankstelle. Diesen kompletten Service können wir für Schiffe bis 47 Tonnen anbieten.
Der angrenzende Yachthafen im malerischen Moseltal und die Wasserskistrecke vor unserer Tür bietet auch ein ausgezeichnetes Revier für die Interessenten von Sportbooten oder Cruisern.
Gerne stehen wir Ihnen mit Rat und Tat zur Seite. Jedes Boot oder jede Yacht wird natürlich mit einer ausführlichen Einweisung und Probefahrt übergeben. Für uns endet die Geschäftsbeziehung nicht mit der Übergabe eines Schiffes, sondern sehr oft wächst sie zu einer vertrauensvollen Zusammenarbeit und oftmals zu einer dauerhaften Freundschaft.
Das Ziel von uns, meinem Sohn und mir, unseren beiden Frauen und all unseren engagierten Mitarbeitern ist es jeden Tag aufs Neue, Ihnen Ihr Hobby sehr angenehm zu gestalten und Ihr Vertrauen zu bestätigen.
Unser maritimes Restaurant und der 4-Sterne Camping- & Wohnmobilplatz "Zum Fährturm" runden unsere Freizeitanlage ab.
Testen Sie uns, wir freuen uns auf Sie.
Herzliche Grüße von der Mosel
Manfred und Christoph Kreusch & Team
Map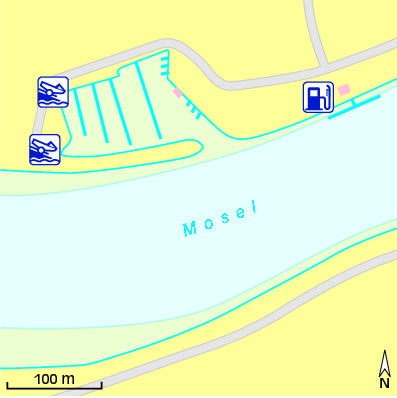 Facts & figures
Other leisure offers
Diverse Sportangebote, u a. Wasserskischule, Weinbergswanderungen
Approach
Approach
Problemlos. Als Landmarke der alte Fährturm kurz oberhalb der Einfahrt.
GPS
6°44,89' N 49°48,83' E
Characteristics
Rechtwinkliges Hafenbecken, von Böschungen eingefasst. Liegeplätze an zahlreichen Schwimmstegen. Boxen durch Fingerstege seitlich begehbar. Schwimmbad angrenzend. Autobahnbrücke in Hörweite. Marina closed at night.
Prices
ADAC reference price
ADAC reference price* (EUR)
16.30
Rate (EUR)
Berth/night
-.90 (pro Meter)
Jetty berth/season
82.11 (pro Meter), zzgl. Strom-, Wasser, Müllpauschale
Person/night
1.10
Shower
-.50 (5 Min.)
Electricity/night
2.10
Fresh water
2.- (100 Liter)
* ADAC reference price (EUR) Total rate per peak-season overnight stay at a marina. It includes the rate for a 10x3.3m boat, two adults incl. shower, electricity and fresh water.
Contact
Harbour master
Availability
8-22. Harbour master's staff speak German and English.
Address
Wassersportzentrum Kreusch
D
54338
Schweich
Contact information
Search number in hardcopy marinas guide
RH860