Yacht Club Lingen (Ems)

Details
Map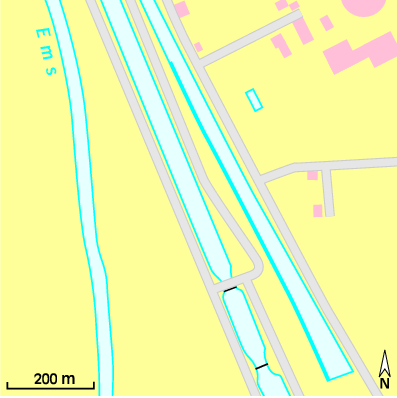 Facts & figures
Opening times
1.1.-31.12.
Approach
Approach
In die "Alte Fahrt". Höchstgeschwindigkeit 5 km/h. Auf Strömung achten.
GPS
7°17,98' N 52°28,84' E
Characteristics
Liegeplätze entlang des Kanalufers. Marina closed at night.
Prices
ADAC reference price
Rate (EUR)
Berth/night
auf Anfrage
Included
Shower
included
Electricity
included
Fresh water
included
* ADAC reference price (EUR) Total rate per peak-season overnight stay at a marina. It includes the rate for a 10x3.3m boat, two adults incl. shower, electricity and fresh water.
Travel information
Die hübsche Altstadt von Lingen birgt einige gut erhaltene historische Baudenkmäler. Das Rathaus von 1555 mit seinem Treppengiebel von 1663 gilt als das Wahrzeichen der Stadt. Gleich daneben befindet sich die Alte Posthalterei, ein zweigeschossiges Fachwerkhaus mit Walmdach, das von 1653 bis 1851 Lingens Poststelle war und heute eine Gaststätte beherbergt. Ansonsten wird der Marktplatz von schönen Giebelhäusern umrahmt, zu denen das Haus der Kivelinge von 1583 zählt, eines der ältesten Bürgerhäuser Lingens. Die schönste Straße Lingens dürfte die Burgstraße sein. Man findet dort das Hellmannsche Haus von 1641 mit seinem reich ornamentierten Fachwerkgiebel, die ab 1832 errichtete katholische Bonifatiuskirche, das Palais Danckelmann von 1646 und im zugehörigen Kutscherhaus aus dem frühen 18. Jh. das Heimatmuseum.
Contact
Harbour master
Availability
Harbour master's staff is multilingual.
Contact information
Phone
Mobil 0 17 19 72 78 84
Search number in hardcopy marinas guide
RH992