Yachtclub Accumersiel e.V.

Details
Map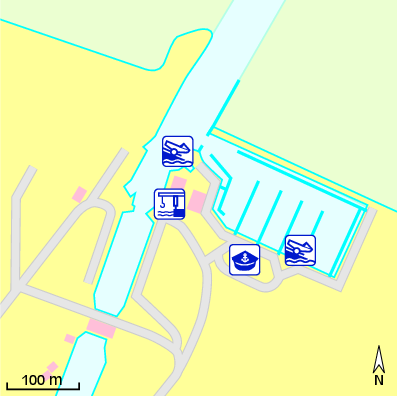 Approach
Approach
Von See kommend durch die betonnte Accumersieler Balje bis zu dem an seiner Westseite mit Pricken markierten Außentief. Nördlich des Hafens ist es auf einer Länge von ca. 0,25 nm durch ein Leitwerk begrenzt. Unmittelbar nördlich des Fischereihafens nach E in den trockenfallenden Yachthafen. Auf Verschlickung achten.
GPS
7°29,4' N 53°41,12' E
Characteristics
Rechteckiges, durch einen Steindamm eingefasstes Hafenbecken. Mehrere Schwimmpontons mit Fingerstegen und Dalben.
Prices
ADAC reference price
ADAC reference price* (EUR)
17.10
Rate (EUR)
Berth/night
7.50 (unter 8 m) bis 16.- (über 14 m)
Jetty berth/season
835.- (bis 8 m) bis 1520.- (bis 14.50 m)
Shower
-.50 (4 Min.)
Electricity/night
2.-
Included
Fresh water
included
* ADAC reference price (EUR) Total rate per peak-season overnight stay at a marina. It includes the rate for a 10x3.3m boat, two adults incl. shower, electricity and fresh water.
Travel information
Das Nationalparkhaus Dornumersiel informiert über den Lebensraum Wattenmeer und veranstaltet geführte Wattwanderungen. Das auf einer Geestinsel inmitten der Marsch gelegene Dornum strahlt friesische Ruhe und Beschaulichkeit aus. An der Hauptstraße befindet sich Ostfrieslands größte Wasserburg, das Barockschloss Norderburg aus der Zeit um 1700, das heute als Schule dient. Die Beningaburg aus dem 17. Jh., links der Straße, wird jetzt als Restaurant und Hotel genutzt. Ganz in der Nähe steht auch Ostfrieslands einzige erhaltene Synagoge. Am Ende der Hauptstraße erhebt sich auf einer Warf die St. Bartholomäus-Kirche aus dem späten 13. Jh., die den Menschen des Mittelalters als Zufluchtsstätte bei Hochwasser diente. Die reiche Ausstattung mit Herrschaftsemporen und prächtiger Gerhard-von-Holy-Orgel (1710/11) stammt aus dem Barock.
Contact
Harbour master
Availability
8.30-17. Harbour master's staff speak German and English.
Address
Yachtclub Accumersiel e.V.
D
26553
Dornumersiel
Contact information
Phone
+49 33 24 40, +49 16 02 29 30 46
Search number in hardcopy marinas guide
DN490