Yachthafen Hohe Düne

Details
Portrait
Display
MARINA OSTSEE – AHOI AUF HOHE DÜNE! Herzlich willkommen in der ersten 5-Sterne Marina Ostsee an Deutschlands Küsten!
Das einzigartige Konzept der Marina Ostsee wird Sie begeistern: Vor der Mole erwartet Sie eines der reizvollsten Segelreviere der Welt. Von hier aus ist es nicht weit bis zu den Küsten Dänemarks und Schwedens. Gehen Sie mit Ihrem eigenen oder dem für Sie gecharterten Boot in der Ostsee auf Segeltörn. Hinter der Mole erwartet Sie die Marina Ostsee. Sie ist der ideale Liegeplatz für Genießer und Abenteuerlustige. Als hochklassiger 5-Sterne-Luxushafen ist die Marina Ostsee wie gemacht für anspruchsvolle Skipper. Mit 920 komfortablen Liegeplätzen bietet die Marina Ostsee genügend Raum für Boote, Ihre Freunde und Sie. Genießen Sie die vielseitigen Angebote des Yachtcharters und des Yachthandels, der Segel-, Surf- und Tauchschule. Die Marina Ostsee erwartet Sie mit einer abwechslungsreichen Wassersportwelt!
Map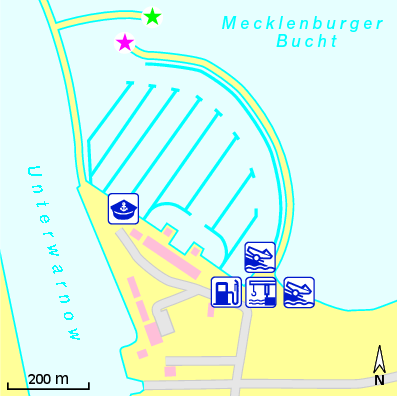 Facts & figures
Other wellness offers
Friseur und Schwimmbad vorhanden, Massage möglich.
Other leisure offers
Diverse Sportangebote, Tauchkurse, Windsurfing, Optimisten-Segeln, Wakeboarden, Seehund-Schwimmen, SBF-Ausbildung, Jollen-Segeln. Kinderbetreuung täglich von Januar bis Dezember.
Approach
Approach
Unmittelbar östlich der Warnowmündung. Tag und Nacht problemlos. Molenköpfe befeuert (Q.G.4M/Q.R.4M).
GPS
54°11,06' N 12°5,91' E
Characteristics
Großes, halbrundes Hafenbecken, durch Steinwälle begrenzt. Liegeplätze an zahlreichen Schwimmstegen vor Dalben, seitlich mit Tauen gegen Abdrift gesichert. An den Feststegen entlang der Mole Liegeplätze für Schiffe bis zu einer Länge von 60m. In den Boxengassen außergewöhnlich viel Raum zum Manövrieren. Einem Luxushotel angeschlossen. Stellenweise Blick auf Warnemünde und seine Hafenanlage. Marina guarded at night.
Prices
ADAC reference price
ADAC reference price* (EUR)
23.-
Rate (EUR)
Berth/night
20 EUR (unter 9 m) bis 47 € (23 m)
Shower
1.- (4 Min.)
Fresh water
1.- (120 Liter)
Included
Electricity
included
Cashless payment
Maestro
Yes
Visa
Yes
Mastercard
Yes
* ADAC reference price (EUR) Total rate per peak-season overnight stay at a marina. It includes the rate for a 10x3.3m boat, two adults incl. shower, electricity and fresh water.
Charteranbieter in der Marina
Contact
Harbour master
Availability
7.00 - 18.00 Uhr (April, Okt), 7.00 - 19.00 Uhr (Mai, Sept), 7.00 - 21.00 (Juni - Aug), während der Hanse Sail 7.00 - 22.00 Uhr. Harbour master's staff speak German and English.
Contact information
Phone
+49 3 81 50 40 80 80, Mobil +49 16 22 50 40 43
Search number in hardcopy marinas guide
DO630