Yachthafen Norddeich

Details
Map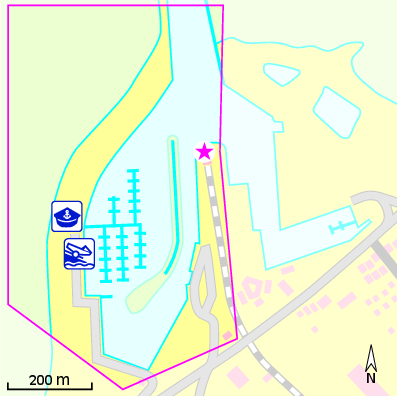 Approach
Approach
Von See kommend zwischen Juist und Norderney das Seegat durchfahren. Durch das betonnte Busetief zu der im E und W von Leitwerken eingefassten (ca. 1,1 nm lang) und durch Pricken markierten Rinne. Von den befeuerten Leitwerkköpfen (F.R.4M/F.G.4M) zunächst einer 144°- (Iso.WR.6s/Iso.6s6M), dann einer 170°-Richtlinie (Iso.3s/Iso.3s10M) in den Vorhafen folgen. Weiter nach Stb in den Yachthafen. Die Zufahrtsrinne hat eine Solltiefe von 2 m.
Characteristics
Durch eine bebaute Pier (u. a. mit Bahnzubringer zur Fähre) geteiltes Hafenbecken. Liegeplätze an von einer Mole begrenzten Stegen mit Auslegern.
Prices
ADAC reference price
ADAC reference price* (EUR)
16.50
Rate (EUR)
Berth/night
1.20 (pro Meter)
Person/night
1.-
Electricity/night
2.50
Included
Shower
included
Fresh water
included
* ADAC reference price (EUR) Total rate per peak-season overnight stay at a marina. It includes the rate for a 10x3.3m boat, two adults incl. shower, electricity and fresh water.
Travel information
Das etwas landeinwärts gelegene Norden ist Ostfrieslands älteste Stadt. Seine alten Giebelhäuser konzentrieren sich auf den von hohen Bäumen bestandenen, über sechs Hektar großen Marktplatz. Hier erhebt sich auch die mächtige St. Ludgeri-Kirche. Glück hat, wer die Orgel aus der Zeit um 1690 erklingen hört, die als ein Meisterwerk des berühmten Orgelbauers Arp Schnitger gilt. Teeliebhaber besuchen das Ostfriesische Teemuseum in der Südwestecke des Marktplatzes. Auf drei Etagen dreht sich hier alles um Ostfrieslands Kultgetränk, es findet sich edles chinesisches Porzellan neben russischen Samowaren. Ein japanisches Teehaus samt Teegarten entführt in exotische Welten. In der Osterstraße steht eines der prächtigsten bürgerlichen Bauwerke der Gegend, das Schöninghsche Haus, ein Meisterwerk der flämischen Renaissance.
Contact
Harbour master
Availability
9-11, 15-18. Harbour master's staff speak German and English.
Contact information
Search number in hardcopy marinas guide
DN520